Opened as of the beginning of the hostilities, the CAMP AT CATUS-CAVALIER was in a farm where it probably functioned until June or July 1940.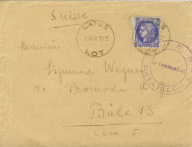 Letter from an internee dated 9-Oct-1939, bound for BASLE (Swiss).
Purple seal of the Commander of 172e R.R. BATAILLON C.

At the time of the rout, the military authorities of the 17th Area addressed the following instructions, on June 22, to the chief of the CAMP AT CATUS:
All documents will have to be destroyed if they are likely to fall into the enemy's hands. The files of the registry office could be preserved provided that they do not carry any indication on the reasons for internment or the names of people having contributed to the arrest.
Perhaps these provisions are at the origin of the lapse of memory which surrounds today the existence of this camp?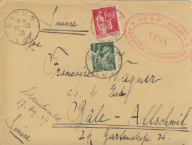 Letter from an internee dated 12-Dec-1939, bound for BASLE (Swiss).
Red seal of the 172e R R BATAILLON C CONTROLE DES ETRANGERS

As indicated by the seals reproduced on these letters, the camp was placed under the control of the 172e Regional Régiment, Bataillon C.
From 1942, another camp located at VILLARY, close to CATUS, sheltered in a barn a hundred Spanish refugees.