The SUPERVISED SANATORIUM OF LA GUICHE was opened in 1942 and closed in 1944. Its manpower was on average of 200 prisoners.
Being equipped with suitable equipment, it lodged sick internees coming from various camps. So in December 1941, for example, it will accomodate tuberculous people coming from the Camp of NOE.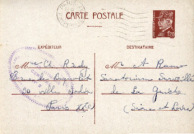 Postcard addressed from Paris the 1-2-1943 to Akima RAMO, Jewish resistant, old member of the International Brigades in Spain.
The next cover has the same black colored censor seal. But this time, it deals with number 1. Note that this cover has been opened by control authorities of MAÇON H C - 108.