Until 1897, the citadel built in 1681 by VAUBAN at ST-MARTIN-DE-RE was the place of gathering of the prisoners towards New Caledonia. Then, until 1938, it was the anteroom for the bagne of CAYENNE.
From March 10, 1940, it became a Supervised Stay Center intended for the internment of French "indésirables", in particular the Communists. They were 49 on June 23, 1940 at the time of the Germans' arrival and 21 others joined them in the following months of 1940. During the occupation years, many others came and enlarge manpower the TODT Organization will largely use to build the Atlantic cost fortifications.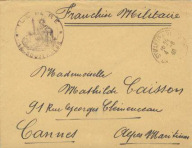 Letter in frankness from ST-MARTIN-DE-RE on June 4, 1940 destinated to CANNES (Alpes-Maritimes) by an soldier affected to the office of the Supervised Stay Center. It is covered by the official seal of the citadel's Governor.
On February 25, 1944, 100 politics coming from the camp at PITHIVIERS arrived at ST-MARTIN-DE-RE and were placed in requisitioned houses and in the Citadel at ST-MARTIN. All worked on the island for TODT Organization. They were kept by men belonging to the Mobile Groupings of Reserve (G.M.R.) and by Gendarmes.
In May 1944, the Germans not needing them anymore requested from the French authorities their transfer out of the department. That was not done under the envisaged conditions and these internees have been placed in the College at LA ROCHELLE.
A letter from Rene PIGOT dated March 21, 1944 informs us on the living conditions in the Citadel at ST MARTIN-DE-RE:
After a travel of about 60 hours, we arrived here at the terminus point of this stage because I don't know what the future reserves to us. It did not miss any more with my tribulation that a passage to the penitentiary, this time it is achieved, here we are… We sleep in the old convict cages. Obviously it is arranged. A bed with two places, a straw mattress, 2 covers a mess tin and a spoon…

We had hoped to be placed among inhabitants like the preceding comrades and free in the Island. Alas, it is not the case. The morning, we go to work, the evening we return to the citadel. The doors are closed and at another day. The morning, wake-up at 5:00, gathering in the camp at 5:1/2 and departure. Lunch on the building site and return towards 18:00, rest, washing, and bed…
Let us recall that Rene PIGOT had been interned in 1940 in the camp at COETQUIDAN. He knew then other camps before his transfer to the Citadel at ST MARTIN-DE-RE.